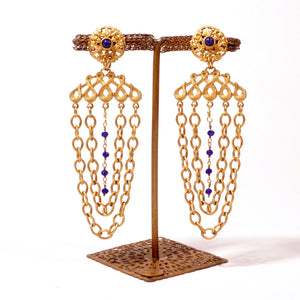 Inspired by the Victorian Radicals exhibition, these impressive earrings capture the era's use of detail and color.
3.5" long, 1.25" wide
Located in Oxford, Alabama since 1984, Sarah Cavender Metalworks has been changing the jewelry design industry one copper wire at a time. Sarah is a world-renowned sculptor and artist who found her craft in metal forming and has made a name for herself. Known for her metal mesh designs, she handcrafts beautiful accessories and pieces. Every piece is made and forged with fire and skill speaking to who she is as an artist and designer. Her one-of-a-kind works of art are perfect for those wanting to stand out from the crowd. Make a statement with Sarah Cavender's handcrafted jewelry.