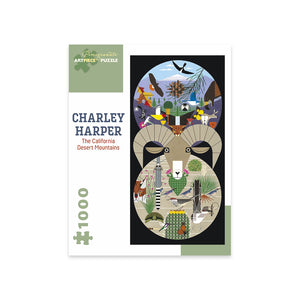 Charley Harper (American, 1922–2007)
Santa Rosa and San Jacinto Mountains National Monument, California, 2002

From the Appalachian foothills of his youth to the mountains of the American West, explored while on a traveling scholarship in 1947, Charley Harper (American, 1922–2007) gathered impressions of nature that would forever inform his artwork. He said, "I came to grips with my new attitude toward form—SIMPLIFY. I couldn't get a Rocky Mountain on a piece of paper without simplifying it. I walked away from a scene before putting brush to paper, eliminated perspective and shading, and recorded only what I felt to be its essence. It was the most satisfying painting I had ever done. I had discovered life after realism."

Harper's paintings and prints have been published by a variety of nature- and conservation-oriented organizations. His work has been featured in Ford Times magazine (1948–1982); on posters for the National Park Service, the Audubon Society, and many other conservation organizations; and in several books, including Harper Ever After: The Early Work of Charley and Edie Harper, Charles Harper's Birds & Words, Charley Harper: An Illustrated Life, Charley Harper's Animal Kingdom, and the Charley Harper Nature Discovery Series.

Thoughtfully conceived and engagingly intricate, our interlocking jigsaw puzzles combine superb color reproduction, stunning and unusual images, and sturdy construction to delight generations of novice and veteran puzzleworkers.

Puzzle size: 20 x 25 in.
Box size: 10 x 13 x 1⅞ in.