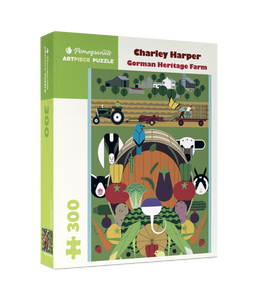 Charley Harper (American, 1922–2007) Gorman Heritage Farm, 1996 Take a trip out to the country with Charley Harper's Gorman Heritage Farm. Harper created this artwork for the working farm and outdoor education center near Cincinnati, Ohio. He distilled the essence of fruits, vegetables, farm animals, and even harvesting machinery into a colorful scene sure to please Old MacDonald himself—and you, as well, as you take on this 300-piece puzzle.
Puzzle size: 18 x 27 in.
Box size: 8⅝ x 10⅝ x 1⅞ in.