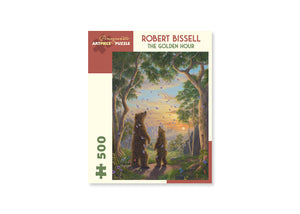 Robert Bissell paints serene landscapes inhabited by magical creatures—often creatures that are fond of standing on two legs, as they are particularly good mirrors of human existence. His paintings invite a childlike sense of wonder, appreciation for our precarious connection with the natural world, and contemplation of life's transitions and mysteries. More of Bissell's works can be found in Hero: The Paintings of Robert Bissell (Pomegranate, 2013).

Puzzle size: 18 x 24 in.
Box size: 8⅝ x 10⅝ x 1⅞ in.