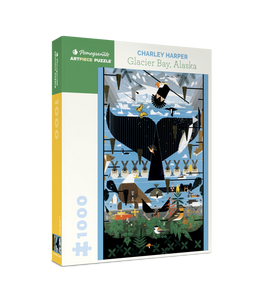 Charley Harper (American, 1922–2007) Glacier Bay, Alaska Charley Harper's paintings have been published by more than 50 nature- and conservation-oriented organizations. Glacier Bay, Alaskas, created for Glacier Bay National Park, was one of ten posters Harper was commissioned to create for the National Park Service. You'll discover a wealth of floral and fauna—perhaps not noticed at first glance—while you piece together this colorful 1,000-piece jigsaw puzzle.
Puzzle size: 32 x 16 in.
Box size: 10 x 13 x 1⅞ in.