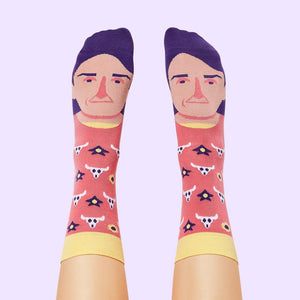 "Creativity is at your feet"
To discover your artistic side, Georgia O'Keefeet believes you need to let your feet wander as freely as your paintbrush. Walk in dusty deserts. If that's not possible, head to the beach. At the very least, wear some art socks and put your feet up next to a screenshot of a cactus. Gifts for creative people can be hard to find, but Georgia O'Keefeet speaks to their soles. You might be able to hear her if you take off your shoes...
75% Combed Cotton
23% Polyamide
2% Elastane
Wash in low temperature, up to 40°C. Avoid the tumble dryer. Do not iron.
Chatty Feet | Funky Socks For Art Lovers