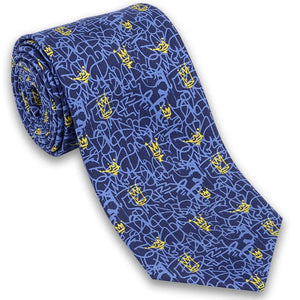 One of NYC's many pleasures is turning a corner to find a street-art mural taking up an entire wall, or spotting a piece by your favorite artist (Basquiat... Banksy). This Graffiti silk necktie is my humble nod to those nocturnal owls that make my city more beautiful (if maybe only in my eyes).

- Black on Royal Blue Blue
- 100% Silk
- Measures 57"long and 3" wide
- Hand-finished in New York City.