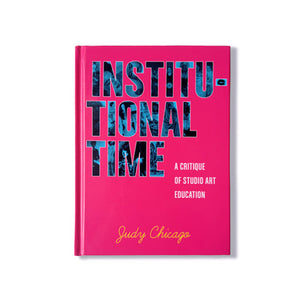 A revered teacher and the most influential feminist artist of our time, Judy Chicago provides an autobiographical look at higher education in art, a must-read for aspiring artists and educators in studio art programs.
 
How should women—and men—be prepared for a career in today's art world? For more than a decade, Judy Chicago has been formulating a critique of studio art education, in colleges or art schools, based upon observation, study, and, most importantly, her own teaching experiences, which have taken her from prestigious universities to regional colleges, and across the country from Cal Poly Pomona to Duke University and the University of North Carolina, Chapel Hill.
 
Founder of the first program dedicated to feminist art, at California State University, Fresno, in 1970, she went on to initiate the Feminist Art Program at California Institute of the Arts with artist Miriam Schapiro, the first program at a major art school to specifically address the needs of female art students.
 
Creator of the celebrated The Dinner Party, a monumental art installation now on permanent display at the Brooklyn Museum, Chicago reviews her own art education, in the 1960s, when she overcame sexist obstacles to beginning a career as an artist and became recognized as one of the key figures in the dynamic California art scene of that decade. She reviews the present-day situation of young people aspiring to become artists and uncovers the persistence of a bias against women and other minorities in studio art education. Far from a dry educational treatise, Institutional Time is heartfelt, and highly personal: a book that has the earmarks of a classic in arts education.
Hardcover:

 

256 pages
Publisher:

 

The Monacelli Press (March 18, 2014)
Language:

 

English
ISBN-10:

 

1580933661
ISBN-13:

 

978-1580933667
Product Dimensions:

 

6.8 x 1.3 x 9.3 inches