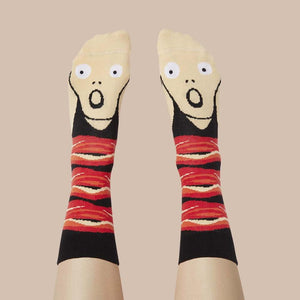 "Screaming art socks"
Introducing the late 19th century's version of OMG. Screamy Ed socks are perfect when you need art gifts and are known to unleash blood curdling shrieks of delight.
Whether you're wandering beneath a boiling sky, pondering the meaning of life or you've forgotten to buy milk at the supermarket, slip on some existential dread and let out your inner anguish with these fun socks for artists.
75% Combed Cotton
23% Polyamide
2% Elastane
Wash in low temperature, up to 40°C. Avoid the tumble dryer. Do not iron.
Chatty Feet | Funky Socks For Art Lovers