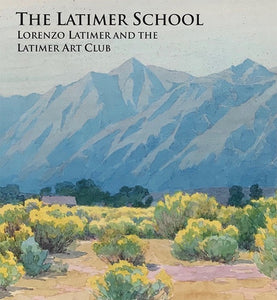 This landmark publication brings together historic landscape paintings by San Francisco based watercolor painter Lorenzo Latimer (1857-1941), alongside those of the Nevada artists he mentored, including Marguerite Erwin, Dora Groesbeck, Hildegard Herz, Nettie McDonald, Minerva Pierce, Echo Mapes Robinson, Nevada Wilson, and Dolores Samuel Young. In 1921, these women founded the Latimer Art Club in honor of their longtime instructor. Their watercolor paintings of the Truckee Meadows, Washoe Valley, Lake Tahoe, and Pyramid Lake are foundational to the history of Northern Nevada's outdoor painting tradition. In 1931, the Latimer Club joined with the legendary classicist, art historian, mountaineer, and University of Nevada professor Dr. James Church to establish the Nevada Art Gallery, now the Nevada Museum of Art. As the institution's founding volunteer organization, the Latimer Art Club planned art exhibitions and interdisciplinary public programs for many years.

This book is published in honor of the 100th anniversary of the Latimer Art Club, and the 90th anniversary of the Nevada Museum of Art. This book was published in conjunction with, The Latimer School: Lorenzo P. Latimer and the Latimer Art Club, an exhibition at the Nevada Museum of Art on view from July 31, 2021-- March 22, 2022.

Essays by Ann M. Wolfe, Alfred C. Harrison, Jr.

Hardcover, 375 pages